Using heat from the ground to heat your home
Ground source heat pumps transfer heat from the ground outside of your house to your radiators or underfloor heating, and they can also heat water stored in a hot water cylinder for your hot taps and showers. This reduces your reliability on fossil fuels and contributes to a greener future.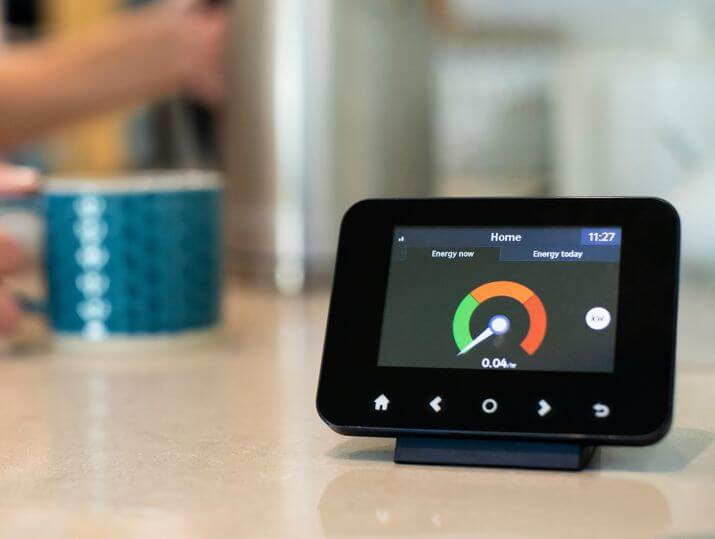 Why Ground Source?
Ground source heat pumps provide a constant temperature throughout the year even at low outside temperatures. They heat water up to 55 degrees so can be used with radiators or underfloor heating. A ground source heat pump runs on electricity at efficiencies up to 400% and no back up boiler is generally required. . They can be retrofitted into an existing house, and with schemes such as the Boiler upgrade Scheme, there is no better time than now to upgrade.
Invest in your future
The cost to install and run a ground source heat pump at your property depends on many factors. Some of these include the amount of land you have to work with, whether you will be installing a horizontal or bore hole system, and if you choose to make any improvements to your heating systems. Speak to one of our experts today to find out the best fit for you.

Some benefits to a ground source heat pump are:
• Save up to 70% on your annual energy bill
• Future-proof against on-going increases in energy costs
• Reduce your carbon footprint
• Improve your EPC rating and add value to your home
Save up to 70% on your fuel bills

The ongoing rise in energy costs effects everyone, and if gas prices continue to rise at a faster rate than electricity, the running costs of a heat pump will be more and more attractive than a gas boiler. A heat pump can have an efficiency of up to 400%, whereas at their best, gas boilers run at around 94%.

Disruption during installation

Installing a ground source heat pump is quite disruptive to your garden or outdoor space, as we have to bring in machinery to dig up the ground and install the system. Depending on the size of your property, Hafod can install a horizontal or bore hole system. To opt for the horizontal system, you will need to have more than a quarter of an acre of clear unobstructed land.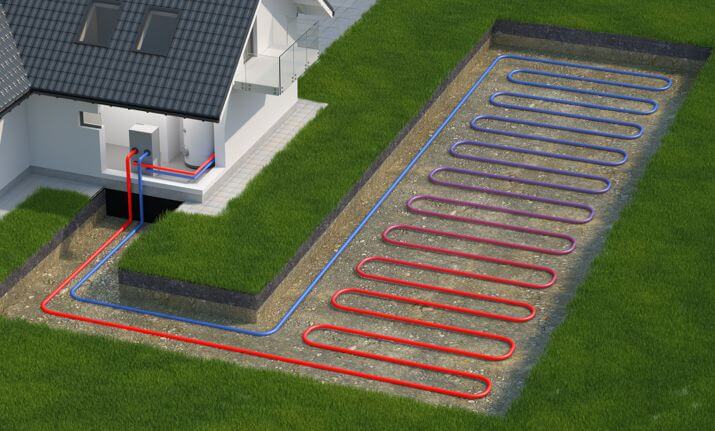 Save up to £6000 with the Boiler Upgrade Scheme
Available from April 2022 as part of the government's Heat and Buildings Strategy, this scheme is for households to receive up to £6000 towards upgrading their gas or oil boiler to a low-carbon heating system, such as a heat pump. Hafod Renewables can help you to apply for this scheme and manage the process so there is no hassle for you.

Limited Availability
The scheme has limited availability and is available for the first 90,000 homeowners. Given that there are over 20 Million households who could apply it is prudent to obtain a quote asap if you are looking to change your Heating system
How much land do I need for a ground source heat pump?

There are 2 methods of installation;
• a borehole method utilises drilling rigs that drill to depths of 100m. This can fit into the space of a small front garden or approx 40m².
• an horizontal system is a network of typically 500meters of pipework buried 1 meter deep and requires ¼ acre of unobstructed land.
Which is more efficient, ground or air source heat pumps?

This is dependant on location. At a coastal position with a mild climate there is not much difference in running cost between the two. However, if a property is in a harsh weather location, ground source heat pumps can be cheaper to run.
Can ground source heat pumps provide all my space heating and domestic hot water?

Yes, for most properties ground source heat pumps are designed to provide 100% space heating and heat your water to 60 degrees which is plenty hot enough for bathing.
What is the maintenance for ground source heating systems?

It is recommended by manufacturers that the heat pump system is maintained annually and Bi-annually for larger commercial systems. This maintenance schedule consists of glycol top ups, filter changing, checking pressures, checking controls and settings, and cleaning of various parts of the system. Hafod Renewables have a 'Hafod Care' plan which covers the heat pump and downstream equipment such as the pressurised hot water cylinder.
Are there any grants available?

Yes, the boiler upgrade scheme grant provides a subsidy of £6000 towards the installation costs of a ground source heat pump. Ground source installations also attract zero rated VAT (both schemes are time limited).
"If you are looking for a renewable heating system for your house you need look no further than Hafod Renewables."

"Excellent from initial contact to completion of installation of heat pump. Very happy with our new heating system and work done by Hafod Renewables."

"Hafod did a great job assessing the job and providing a detailed price for the Ground Source Heat Pump."

"We thank our lucky stars every cold winters day that we chose ground source heating for our big now warm rambling house."