Using heat from the air to heat your home
Air source heat pumps work by transferring heat from the outside air to water, which is then used to heat your home or provide hot water. Some air source heat pumps also work as a cooling system in the warmer months. Most commonly they are installed outside of a building.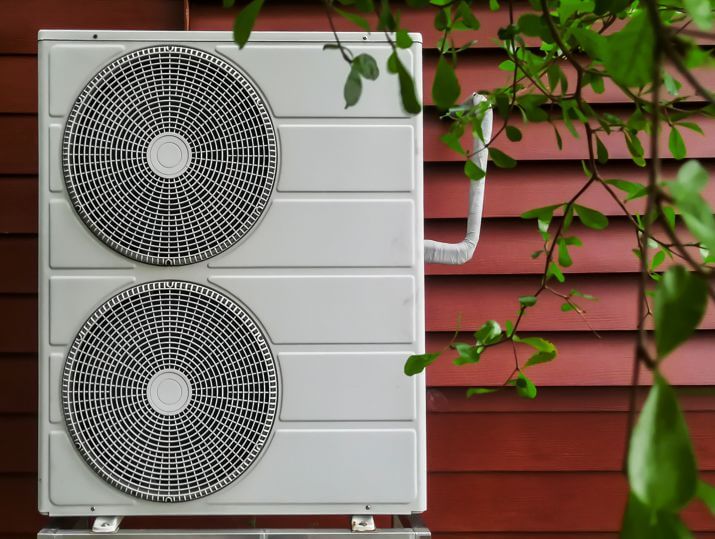 Why Air Source?
With the Boiler Upgrade Scheme, it is easier than ever to install an air source heat system in your home. The installation process is easy and quick, the systems have a long lifespan, and very low ongoing maintenance.
Invest in your future
With the ongoing rises in energy prices and an unsustainable reliance on fossil fuels, there is no better time than now to make the switch to a greener, renewable energy source. Air source pumps can save you up to 70% on your energy bills, with minimal disruption during installation.

• Save up to 70% on your annual energy bill
• Future-proof against on-going increases in energy costs
• Reduce your carbon footprint
• Improve your EPC rating and add value to your home
Save up to 70% on your fuel bills

The ongoing rise in energy costs effects everyone, and if gas prices continue to rise at a faster rate than electricity, the running costs of a heat pump will be more and more attractive than a gas boiler. An air source heat pump can have an efficiency of up to 350%, whereas at their best, gas boilers run at around 94%.

Minimal disruption during installation

Generally, installing an air source heat pump at your home requires very little disruption to your day-to-day life. You may also opt to upgrade your radiators at the same time as the pump system.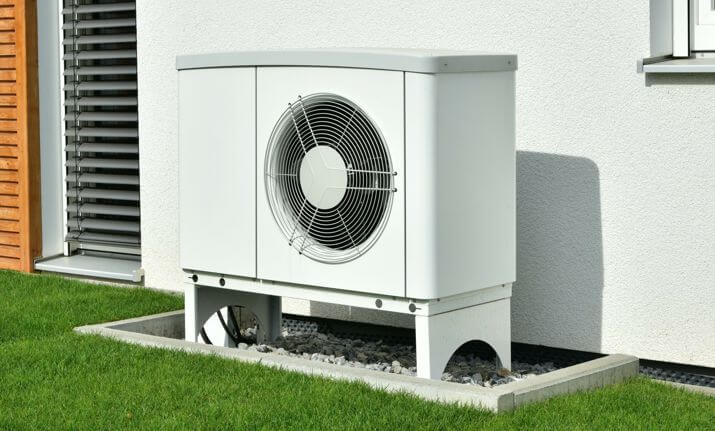 Save up to £5000 with the Boiler Upgrade Scheme
Available from April 2022 as part of the government's Heat and Buildings Strategy, this scheme is for households to receive up to £5000 towards upgrading their gas or oil boiler to a low-carbon heating system, such as a heat pump. Hafod Renewables can help you to apply for this scheme and manage the process so there is no hassle for you.
How loud are air source heat pumps?

Air source heat pumps have a sound pressure level of approx. 50Dba at 1meter, this is equivalent to the sound of an average dishwasher or a light conversation. From the outside, air source heat pumps are generally no louder than average background noise and unless sited near an open bedroom window cannot be heard from indoors.
Do I need a well insulated property for an air source heat pump?

Not necessarily, it's all about getting the radiators right. A well designed underfloor, or installing oversized radiators in an uninsulated property will work just as efficient as a new build. Alternatively, high temperature heat pumps are ideal to heat older properties.
Where is an air source heat pump sited?

Air source heat pumps use the ambient outdoor temperature to collect heat, there is little value in putting them in a sunny location and it is more important to keep them out of the prevailing wind.
Air source heat pumps are generally sited on the outside wall of a house as near as practicable to the pipework for the central heating/ hot water system.
Can an air source heat pump to my existing system?

It depends on the heating system, some houses have radiators and pipework that has been oversized for their existing system and we can retrofit to this with little upgrading, other houses have smaller pipework such as microbore and single panel radiators- in theses cases there may be some upgrading work required on the heating system.
In most cases the hot water cylinder will require replacing to a heat pump compatible type.
What is the maintenance for air source heating systems?

It is recommended by manufacturers that the heat pump system is maintained annually and Bi-annually for larger commercial systems. This maintenance schedule consists of glycol top ups, filter changing, checking pressures, checking controls and settings, and cleaning of various parts of the system. Hafod Renewables have a 'Hafod Care' plan which covers the heat pump and downstream equipment such as the pressurised hot water cylinder.
Are there any grants available?

Yes, the boiler upgrade scheme grant provides a subsidy of £5000 towards the installation costs of an air source heat pump. Air source installations also attract zero rated VAT (both schemes are time limited).
"Hafod supplied our air source heat pump, hot water tank and underfloor heating. This was all undertaken professionally and with the utmost care."

"Hafod Renewables installed my air source heat pump. I'm very pleased with this heating, constant temperature, plenty of hot water."

"We found Hafod personnel, from the consultation phase to the completion phase, knowledgable, professional and courteous."

"The team worked extremely hard and made sure we understood how the system works. They tidied up after themselves and took all the packaging away as well as the old pipe work and old cylinder."